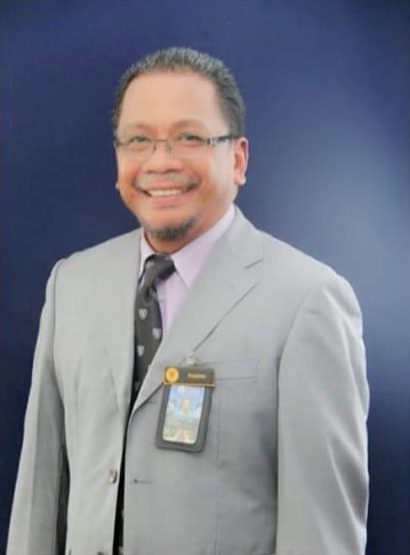 Working experience:
1981- Jan 1998: Worked as Environmental Health Officer, Ministry of Health Malaysia stationed at Area Health Office, Tawau (Lahad Datu, Semporna, Kunak and Tawau) , Area Health office, Tuaran (Tuaran and Kota Belud), and Area Health Office Kota Kinabalu, Sabah assigned to various units: Food Quality Control, Communicable Disease Control, Rural Environmental Sanitation Programme, General Health (includes International Health). Other responsibilities were to perform duties as a Prosecuting Officer under the Food Act 1983 and other respective public health laws in Malaysia. Passed Malaysia Government Laws Examination in 1989.
1998- Present: Associate Professor at Faculty of Science & Natural Resources, Universiti Malaysia Sabah (UMS) Sabah, Malaysia. Since 1998, his researches focus on Biodegradation & Bioremediation (phenol biodegradation and ASP-enhanced bioaugmentation of oil sludge using Locally Isolated Beneficial Microorganisms (LIBeM) (Patent Reg: PI 2018100002) Oil spill Bioaumentation and Modelling, (Patent Reg: 2018100003) Solid & Toxic Waste management (Waste Minimization, Biocomposting (oil palm EFB and MSW using LIBeM-POW, LIBeM-LIQ, LIBeM-CAP).
He is the co-founder cum adviser of the UMS Greenpulse (Student's Environment Group). Actively involved in UMS Overseas student's Internship Program (OSIP-2001-2019) to Australia, China, India USA, Korea, Indonesia and Taiwan since 2001. 2015-2016 – Industrial attachment as OSHM & SWM Consultant at Henan Pingyuan Mining Machinery Co; Ltd, Xinxiang, Henan Province, China.
Awards:
Recipient of the TCP (Technical Co-operation Programme) Scholarship 1993, British Government, U.K., SABAH GOVERNMENT Scholarship 1993-1997 and MALAYSIA SLAB Scholarship 2002-2004.
2009- UMS PEREKA BRONZE AWARD
2014- UMS PEREKA BRONZE AWARD
2016- UMS PEREKA BRONZE AWARD
2017- EMIRATES RESEARCH PUBLISHING- BEST RESEARCH PAPER (CBAES-2017) 2019- KOREA CREATIVE INVENTION- SEMI GRAND AWARD
2019- KOREA CREATIVE INVENTION- GOLD AWARD
2019- WORLD CREATIVE INNOVATION & SCIENCE GRAND AWARD
2019- WORLD ENVIRONMENTAL SCIENCES GRAND AWARD
2019- WORLD GREEN TECHNOLOGY GRAND AWARD